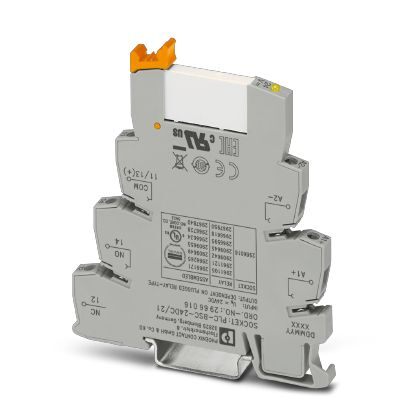 2966171
PHX2966171
Weight 0.079 kg
Official Distributor
Relay Module - PLC-RSC- 24DC/21
PLC-INTERFACE, consisting of basic terminal block PLC-BSC.../21 with screw connection and plug-in miniature relay with power contact, for assembly on DIN rail NS 35/7,5, 1 changeover contact, input voltage 24 V DC
Slim design
Efficient connection to system cabling using V8 adapter
RT III sealed relay
Safe isolation according to DIN EN 50178 between coil and contact
Functional plug-in bridges
Integrated input circuit and interference suppression circuit
Technical Specifications
Note
| | |
| --- | --- |
| Utilization restriction | EMC: class A product, see manufacturer's declaration in the download area |
| Type of note | Notes on operation |
| Note | Separating plate PLC-ATP must be installed for voltages larger than 250 V (L1, L2, L3) between identical terminal blocks in adjacent modules. Potential bridging is then carried out with FBST 8-PLC... or FBST 500.... |
Dimensions
| | |
| --- | --- |
| Width | 6.2 mm |
| Height | 80 mm |
| Depth | 94 mm |
Ambient conditions
| | |
| --- | --- |
| Ambient Temperature (Operation) | -40 °C ... 70 °C (see to derating) |
| Ambient temperature (storage/transport) | -40 °C ... 85 °C |
| Degree of Protection | RT III (Relay) |
| Degree of Protection | IP20 (Relay base) |
| Degree of Protection | ≥ IP54 (Installation location) |
Coil side
| | |
| --- | --- |
| Nominal input voltage UN | 24 V DC |
| Typical input current at UN | 9 mA |
| Typical response time | 5 ms |
| Typical release time | 8 ms |
| Protective circuit | Reverse polarity protection Polarity protection diode |
| Protective circuit | Free-wheeling diode Damping diode |
| Operating voltage display | Yellow LED |
| Power dissipation for nominal condition | 0.22 W |
Contact side
| | |
| --- | --- |
| Contact Type | 1 changeover contact |
| Type of switch contact | Single contact |
| Contact Material | AgSnO |
| Maximum Switching Voltage | 250 V AC/DC (The separating plate PLC-ATP should be installed for voltages larger than 250 V (L1, L2, L3) between identical terminal blocks in adjacent modules. Potential bridging is then carried out with FBST 8-PLC... or ...FBST 500...) |
| Minimum Switching Voltage | 5 V (at 100 mA) |
| Min. switching current | 10 mA (12 V) |
| Maximum Inrush Current | 10 A (4 s) |
| Limiting Continuous Current | 6 A |
| Interrupting rating (ohmic load) max. | 140 W (at 24 V DC) |
| Interrupting rating (ohmic load) max. | 20 W (at 48 V DC) |
| Interrupting rating (ohmic load) max. | 18 W (at 60 V DC) |
| Interrupting rating (ohmic load) max. | 23 W (at 110 V DC) |
| Interrupting rating (ohmic load) max. | 40 W (at 220 V DC) |
| Interrupting rating (ohmic load) max. | 1500 VA (for 250 V AC) |
| Switching capacity | 2 A (at 24 V, DC13) |
| Switching capacity | 0.2 A (at 110 V, DC13) |
| Switching capacity | 0.1 A (at 220 V, DC13) |
| Switching capacity | 3 A (at 24 V, AC15) |
| Switching capacity | 3 A (at 120 V, AC15) |
| Switching capacity | 3 A (at 230 V, AC15) |
General
| | |
| --- | --- |
| Test voltage | 4 kV AC (50 Hz, 1 min., winding/contact) |
| Operating mode | 100% operating factor |
| Flammability rating according to UL 94 | V0 (Housing) |
| Mechanical service life | 2x 107 cycles |
| Mounting Position | any |
| Assembly instructions | in rows with zero spacing |
Connection data
| | |
| --- | --- |
| Connection Method | Screw connection |
| Stripping length | 8 mm |
| Screw thread | M3 |
| Conductor cross section solid | 0.14 mm² ... 2.5 mm² |
| Conductor cross section flexible | 0.14 mm² ... 2.5 mm² |
| Conductor cross section flexible | 0.2 mm² ... 2.5 mm² (Single ferrule) |
| Conductor cross section flexible | 2x 0.5 mm² ... 1.5 mm² (TWIN ferrule) |
| Conductor cross section AWG | 26 ... 14 |
| Torque | 0.6 Nm ... 0.8 Nm |
Standards and Regulations
| | |
| --- | --- |
| Designation | Standards/regulations |
| Standards/regulations | IEC 60664 |
| Standards/regulations | EN 50178 |
| Pollution degree | 3 |
| Overvoltage category | III |
Conformance/approvals
| | |
| --- | --- |
| Designation | Corrosive gas test |
| Identification | ISA-S71.04. G3 Harsh Group |
| Identification | EN 60068-2-60 |
Environmental Product Compliance
| | |
| --- | --- |
| REACh SVHC | Lead 7439-92-1 |
| REACh SVHC | Hexahydromethylphthalic anhydride |
| China RoHS | Environmentally Friendly Use Period = 50 years |
| China RoHS | For details about hazardous substances go to tab "Downloads", Category "Manufacturer's declaration" |
Why Proax for Phoenix Contact 2966171?
Proax is an authorized distributor of Phoenix Contact 2966171 and one of Phoenix Contact's largest distributors in North America. Our highly skilled in-house technical team is ready to assist with any technical needs.
Have a question in mind? to help you get the right product as quickly as possible for your project. We're always here to help!