Swivellink Authorized Distributor
Swivellink specializes in offering quality products for factory automation. Their product line includes robust mounts for machine vision, custom vacuum kits for end-of-arm tooling (EOAT), complete conveyors, Stronguard machine guarding, and the innovative PLx device for safety system validation. They also offer a range of robot accessories like pedestals, mobile bases, and parts feeder kits. Swivellink's products are designed to streamline your operations while enhancing functionality and safety.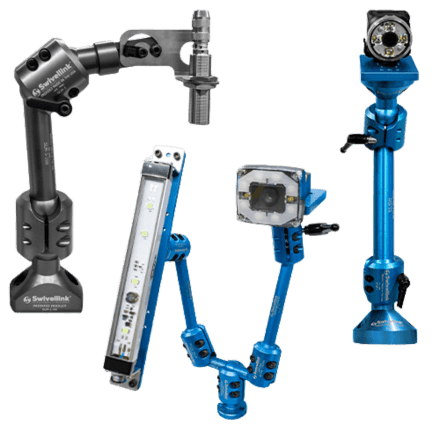 Popular Products from Swivellink
View All
Not sure what part number you need?
Our team of experts is ready to help you find the product or solution

Value Added Swivellink Distributor
Proax is pleased to be an authorized distributor of Swivellink, bringing their top-of-the-line factory automation solutions to various locations across Canada, including Vancouver, Winnipeg, Windsor, London, Cambridge, Barrie, Mississauga, Laval, Granby, Quebec City, St. John's, and Dartmouth. Our commitment to quick, efficient service, backed by localized support, ensures that you have access to Swivellink's innovative products when you need them.
Support & Knowledgebase
As the authorized Swivellink distributor in Canada, Proax offers versatile mounting solutions. Contact Proax today to find out more about our comprehensive range of Swivellink products, ideal for various industrial applications.