SMC Authorized Distributor
SMC specializes in pneumatic control engineering to support industrial automation and was founded in Japan in 1959. Our partner has production facilities in 30 countries and sales networks in 83 countries, with local services in 500 locations. Proax is proud to be SMC's elite distributor.
From actuators, valves, and connectors, to electrical products, vacuum solutions, and temperature control systems, the expansive SMC product portfolio features the most advanced pneumatic offerings. With a catalog of more than 12,000 basic models featuring over 700,000 variations, Proax has the SMC product you need for enhanced pneumatic application performance.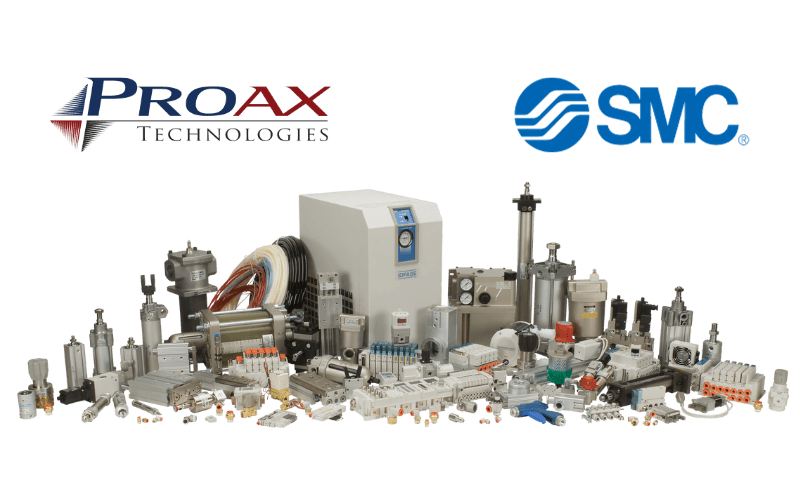 Not sure what part number you need?
Our team of experts is ready to help you find the product or solution
Value Added SMC Distributor
We offer thousands of SMC products across Canada at Proax. Most of our in-stock items are shipped the same day in Canada. We also go beyond supplying; we create tailored solutions to meet your unique needs. Our skilled engineers are adept at developing specialized projects utilizing top-notch SMC products, turning your innovative ideas into practical reality.
SMC products are available in our warehouses in Vancouver, Winnipeg, Windsor, London, Cambridge, Barrie, Mississauga, Laval, Granby, Quebec City, St John's, Dartmouth, and soon in the United States.
Support & Knowledgebase
Proax proudly serves Canada as an elite distributor of SMC products. Learn more about the comprehensive portfolio of SMC products at the links below.