Kaeser Compressors Authorized Distributor
As an official distributor of Kaeser Compressors, Proax offers a comprehensive suite of products and services, tailored to maximize uptime and minimize lifecycle costs. Our offerings include Kaeser's Rotary Screw Compressors, Blowers, Vacuums, Mobile Compressors, Compressed Air Lines and Compressed Air Filters, each known for their efficiency, reliability, and quality. Alongside these products, we provide diverse services such as Compressed Air Audits, Maintenance, Custom Design and Build, Installation and Repairs, Leak Detection, and Preventive Maintenance.
Exclusively Serving the Atlantic Provinces Only
✅Nova Scotia
✅New Brunswick
✅Prince Edward Island
✅Newfoundland and Labrador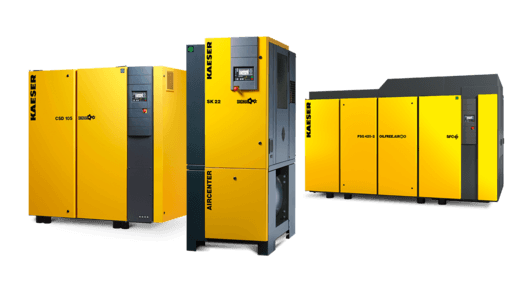 Popular Products from Kaeser Compressors
View All
Not sure what part number you need?
Our team of experts is ready to help you find the product or solution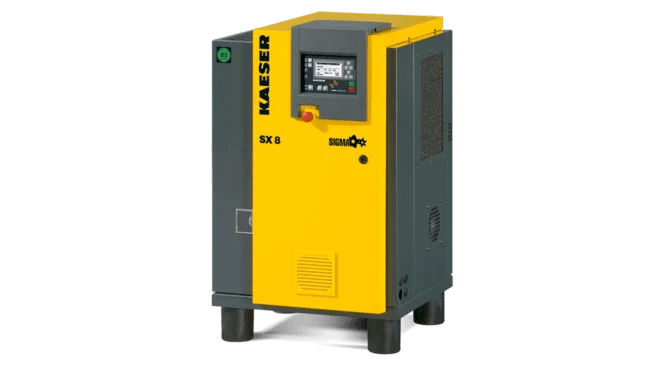 Belt Drive up To 30 Hp
Small Rotary Screw Air Compressors
Kaeser's compact rotary screw air compressors, including the SX, SM, SK, and AS series with V-belt drives, are known for their remarkable efficiency and reliability. These models stand out due to their energy-conserving SIGMA profile rotor and the accompanying integrated SIGMA CONTROL 2 controller.
Specifications include:
Power range: 3 to 30 hp Pressure options: 125, 160, or 217 psig Flow rate: 9 – 143 cfm
Available options:
T-Models: Featuring an integrated refrigerated dryer for superior compressed air quality; SFC Models: These come with a Variable Speed Drive (VSD) to effectively cater to fluctuating demand. (Available in SM, SK, and AS series). If you're uncertain about which model suits your needs best, don't worry. Our team at Proax is ready and willing to assist you in determining the perfect solution. Feel free to get in touch to start the conversation.
✅Maintenance-friendly
✅Remarkably quiet
✅Efficient Power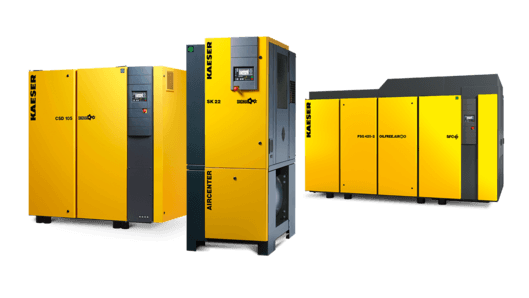 Rotary Screw Compressors
Rotary Screw Compressors by Kaeser are designed to meet the high demands of numerous industrial, trade, and workshop applications. These machines are ideal for scenarios that require a constant supply of quality compressed air over prolonged periods. What sets them apart is Kaeser's distinctive SIGMA profile rotors, which deliver up to 15% energy savings compared to conventional rotor designs.
Types:
Compact Rotary Screw Compressors: Efficient & Reliable (SX, SM, SK, and AS series, 3-30 hp).
1:1 Direct Drive Compressors: Pinnacle of efficiency, eliminating transmission losses (25-650 hp).
Oil-Free Rotary Screw Compressors: Meeting stringent quality requirements for various industries.
Variable Speed (VSD) Compressors: Optimized for adaptability to varying loads and precise pressure control.
Mobile Air Compressors: 50 to 1600 cfm portable air compressors.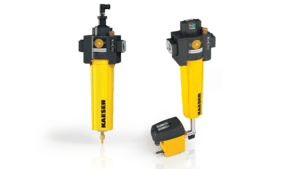 Compressed Air Filters
Kaeser Compressed Air Filters are pivotal for maintaining superior compressed air quality. These filters are compliant with ISO 8573-1 purity classes and are designed to reduce pressure loss by 50%, ensuring energy and cost efficiency. They are user-friendly and suitable for a variety of applications with easy maintenance and element changes.
Types of Kaeser Compressed Air Filters: •Kaeser Filter Series (20 to 1130 cfm) •Kaeser Filter Series (1250 - 11,875 scfm) •Activated Carbon Towers •Oil Mist Eliminator •High Pressure Filters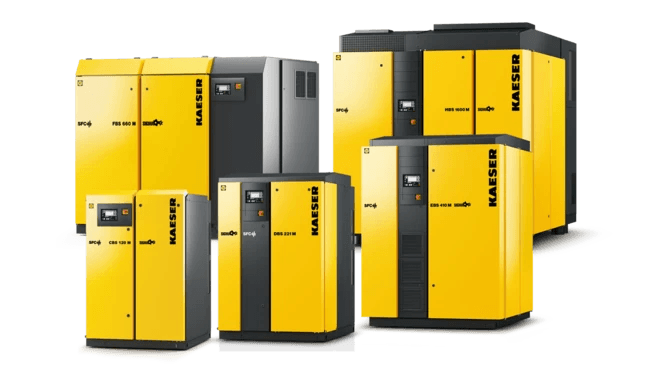 Kaeser Blowers
Kaeser blowers are designed to be low-maintenance, quiet, and efficient, delivering compressed air for various applications, including:
✅Pneumatic conveying of bulk materials
✅Water management tasks such as sedimentation tank aeration and filter flushing
✅Mobile operations such as mixing, tanker, and suction vehicles
✅Industrial process and cooling air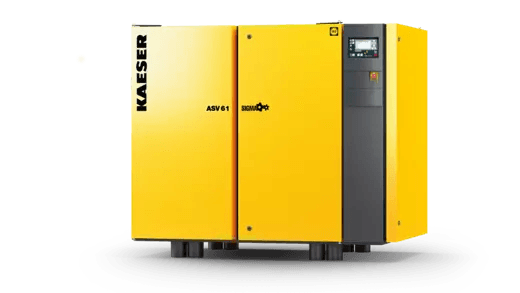 Turnkey solutions
Rotary Screw Vacuum Packages
Kaeser vacuum packages use a unique vacuum part with a SIGMA-Profile. They generate a low vacuum in one stage. We have three series available with:
Capacity: 4.75 to 15.70 m³/min Final Vacuum: 99% Pressure: 10 mbar (a)
These ready-to-connect packages are great for tasks like dust extraction, packaging machines, drying, degassing, or filtration.
Value Added Kaeser Compressors Distributor
Proax is your trusted source for Kaeser products in the Atlantic region! We are dedicated to providing top-notch service and solutions tailored to your unique needs. Whether you're looking for air compressors, blowers, or other Kaeser products, we've got you covered.
✅Nova Scotia
✅New Brunswick
✅Prince Edward Island
✅Newfoundland and Labrador
Support & Knowledgebase
Elevate your operations—choose Kaeser at Proax. Contact us now to learn more.