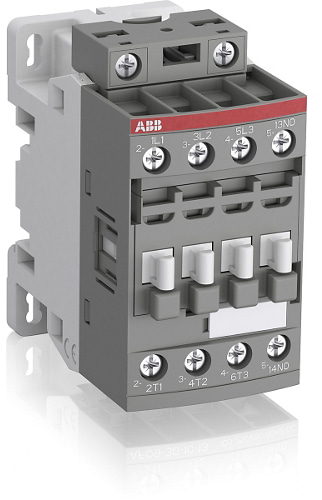 AF09-30-10-13
By ABB
Official Distributor
AF09 contactors are used for controlling power circuits up to 690 V AC and 220 V DC. They are mainly used for controlling 3-phase motors, non-inductive or slightly inductive loads. AF... contactors include an electronic coil interface accepting a wide control voltage Uc min. ... Uc max. Only four coils cover control voltages between 24...500 V 50/60 Hz or 20...500 V DC. AF contactors can manage large control voltage variations. One coil can be used for different control voltages used worldwide without any coil change. AF contactors have built-in surge protection and do not require additional surge suppressors. The AF... series 1-stack 3-pole contactors are of the block type design. - Main poles and auxiliary contact blocks: 3 main poles, 1 built-in auxiliary contact, front and side-mounted add-on auxiliary contact blocks (mechanically-linked auxiliary contacts compliant with Annex L of IEC 60947-5-1. N.C. mirror contacts compliant with Annex F of IEC 60947-4-1) - Control circuit: AC or DC operated - Accessories: a wide range of accessories is available.
Why Proax for ABB AF09-30-10-13?
Proax is an authorized distributor of ABB AF09-30-10-13 and one of ABB's largest distributors in Canada. Our highly skilled in-house technical team is ready to assist with any technical needs.
Have a question in mind? to help you get the right product as quickly as possible for your project. We're always here to help!