To Our Valued Customer,
Earlier this year it was announced that
Proax Technologies Ltd
had purchased
Automation West Technologies Inc.
This is a very exciting event for both companies, for our employees and our clients. Our greatest assets have always been our people, suppliers and our valued customers and by joining forces we have increased our ability to provide additional product and solutions. Over the past several months, Proax Technologies and Automation West Technologies have been working closely together to ensure a smooth transition takes place and we maintain a high level of customer service.
Automation West had two main divisions;
Distribution of Automation Controls
and a Valve Automation Business. Proax also has focused on the
Distribution of Automation Controls
and carries many complementary products which can add additional value to Automation West's clients. We are pleased to announce that effective June 5, 2017 the distribution of automation controls business through Automation West will be merging with Proax Technologies.
When you consider that Automation West is
SMC Pneumatics
largest technical distributor in Western Canada and Proax Technologies is their largest in Canada, the advantage to our clients becomes clearer. Add to this many complimentary Automation Lines such as
ABB
,
Omron
,
Phoenix Contact
and
Rittal
, and the ability to offer customers significant value added Automation Solutions becomes clearer.
Though we will now process the distribution business under the name of Proax Technologies Ltd, you can rely on the same personal working relationships that you have had in the past. You will still be dealing with the same people, and you can depend on the same quality of work. We have created a new account for you in Proax Technologies Ltd under similar terms and conditions as you experienced with Automation West. This includes pricing, credit and payment terms.
We would now like you to establish an account with Proax Technologies Ltd on your system so that you're next order can be processed quickly and efficiently.
We appreciate your help during this transition period; if you could please forward this information to your administrative group to ensure the Proax account has been set up. We will follow up shortly to ensure a smooth transition. Here is some further information to help answer questions you may have.
Q & A
What is the key advantage to us the customer?
You will have access to a larger Inventory, technical resources and additional automation products through Proax Technologies Ltd. We also offer online shopping through our website.
What do I need to change on our system?


Going forward you will be purchasing from Proax Technologies Inc; you will need to add Proax Technologies as a vendor.  Your key points of contact will remain the same.


Remit to Address:  13260 78th Avenue #29, Surrey (BC) V3W 0H6


We would like to set up your account on Electronic Fund Transfers (EFT). We will contact you to see if this is possible and provide you with the necessary information.


What about my existing open orders, invoices, etc?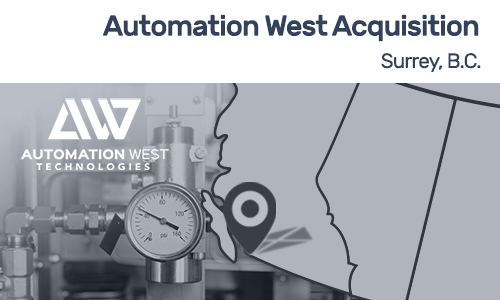 All existing open orders and deliveries will be processed as usual.  Payments for outstanding invoices under Automation West should be paid to Automation West as usual. New orders and payments would be processed through Proax Technologies Ltd.
Does Automation West Technologies still exist?
Yes Automation West will still exist as an affiliated company.  Automation West has been an Emerson Valve Automation Centre (VAC) for years and with this re-organization, will allow Automation West to focus on providing value added services for our oil, gas, water treatment and other large pipeline infrastructure customers.
Will you be changing any of your suppliers?
We do not expect any major changes with existing lines. You will now have more access to an expanded product line, please refer to the Proax website to view our wide array of products and suppliers and our line card attached.
Western Support Team
Download this document using the following
link
Locations
We currently have 2 locations in BC and plan to open a new office in the fall to join both offices. More details of this move will follow once the location has been determined.


Automation West Technologies, 13078 84th Ave, Surrey, (BC) V3W 1L2


Proax Technologies Ltd, 13260 78th Avenue #29, Surrey (BC) V3W 0H6